Who are the best PR companies in Manchester?
It's a good question. Obviously, at Sugar PR we're biased. Therefore, we reckon it's our team (based at 76 King Street by the way)  by a country mile.
However, if you're looking for a PR agency you'll be looking for certain things. Every PR company you speak to will have a different approach, different ideas, different people, different quality of business connections  and different types of campaigns to offer.
Our own view is that there are lots of brilliant PR companies in a city like Manchester. It depends what you're looking for.
How to choose a PR company
There are agencies who only touch 'blue chip' corporate clients for example. There are others who specialise in luxury goods, high-end retailers or consumer fashion products. Many require a minimum budget upfront before they'll even speak to you about your brief. Some freelancer PR's in Manchester are better than big agencies, others have just stumbled into the market. So which one do you choose?
If you're looking to brief a PR agency and wondering how to brief a PR company you should read our master guide: How to brief a PR company. It contains plenty of handy tips, advice and pointers on how to get the best response from your chosen agency.
We're confident we know where our own niche is.
We specialise in fast growth, ambitious, entrepreneurial b2b and professional services firms who value trusted relationships and want to be smart, agile and dynamic about their PR profile.
If you sell your services or your knowledge to other businesses then we think Sugar PR is the best PR agency in Manchester for you.
Put simply, if you own the business or you handle marketing for a ambitious business owner, we're think we're one of the best PR companies in Manchester.
But we would say that wouldn't we?
The best PR companies in Manchester
We've only been in business for six months but already we've got a reputation for delivering results and a commercial ROI for companies and business owners.
There are of course, more independent, ways to find out who are the best PR companies in Manchester. It would be remiss of us not to mention them.
There are two key tables which highlight the best PR companies in the UK. They appear each year in PR Week and Prolific North. Here are the results in full from the Prolific North league table from 2016. Special thanks go to the excellent team at PN who do a fantastic job in reporting on, researching and engaging with the entire Northern marketing community. 
The Prolific North Top 50 PR Agencies 2016
in association with Pitch Consultants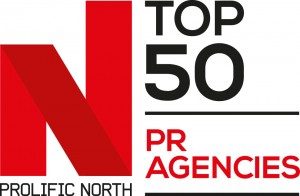 | | | | | |
| --- | --- | --- | --- | --- |
| Position 2016 | Company name | Location | Head count | Agency's selection of clients |
| 1 | Citypress | Manchester | 70 | Aldi, Coca Cola Enterprises, Lloyds Banking Group, Swinton Insurance, British Gas |
| 2 | Tangerine | Manchester | 60 | Peugeot UK, Pizza Hut, Sport Relief, Jewson, British Gypsum |
| 3 | Havas | Manchester | 26 | Kellogg's, ASDA, Pets At Home, Greggs, Mecca Bingo |
| 4 | Weber Shandwick | Manchester | 32 | Alliance MBS, PZ Cussons, Sealed Air, Aldi, Avis |
| 5 | Finn Communications | Leeds | 26 | R&R Ice Cream, Cadbury's ice creams, Yoomoo, ghd, Quorn, Morphy Richards, Taylors of Harrogate |
| 6 | Barrett Dixon Bell | Altrincham | 30 | DSM, tna, Tata, Tyco, M&I Materials |
| 7 | Brazen PR | Manchester | 30 | Wilko, Dr Oetker, Magnet, Merlin Entertainments, Molson Coors (Rekorderlig) |
| 8 | Beattie | Leeds, Manchester | 22 | Specsavers, Commercial Estates Group, Biffa, Flybe, La Redoute |
| 9 | Lucre | Leeds | 20 | Kodak, jet2.com, WVR, Holiday Extras, Kohler Mira |
| 10 | Influential PR | Liverpool | 21 | Quilter Cheviot Asset Management, Morgan Sindall, Camelot UK Lotteries Limited, Liverpool Vision, International Festival of Business 2016, Grosvenor Liverpool Fund (Liverpool One) |
| 11 | Corporate Culture | Liverpool | 23 | The Co-op, FCC, Carlsberg, WRAP, WWF |
| 12 | Carousel PR | Manchester | 18 | Selfridges, MGA, Savills, Festival Number 6, Snowbombing |
| 13 | Peppermint Soda | Manchester | 25 | Home Bargains, Story Homes, Muse Developments, Farjo Hair Institute, James Cropper Plc |
| 14 | Mason Williams | Manchester | 12 | Accor, TOMY, Fruit Heroes, Holland's, Athenaeum |
| 15 | Kenyon Fraser | Liverpool | 37 | Merseytravel, M&S, Bradford College, Aintree, Liverpool JMU |
| 16 | Scott Partnership | Holmes Chapel | 13 | Agilent Technologies, Crown BioScience, Sciformix, Allscripts Healthcare, Precision Polymer Engineering (Idex) |
| 17 | Smoking Gun | Manchester | 18 | Silentnight Group, Bright HR (Peninsula Business Services), Robert McBride, Nobia UK (Magnet Kitchens), Holt LLoyd International |
| 18 | Democracy | Manchester | 18 | Travis Perkins, CORGI HomePlan, Knowsley Safari, Halewood Wines & Spirits, TJ Hughes |
| 19 | MCG PR | Leeds | 14 | Vileda, Pink Lady, Tenderstem, Damart, TaxAssist Accountants, Costcutter Supermarkets Group |
| 20 | SKV PR | Manchester | 14 | Crown Commercial Services framework, Qualtrex, Lancashire Enterprise Partnership, BDP, Lowry Hotel |
| 21 | PR Agency One | Manchester | 16 | Gift Voucher Shop , Fletchers Solicitors, PushDoctor, YMCA, Appliances Direct |
| 22 | Intelligent Conversation | Manchester | 11 | Synectics plc, EMIS Group plc, United Utilities plc, Pharmacy2U, Brother Europe |
| 23 | DTW | Guisborough | 13 | The Law Society, Mersey Gateway Project, New Wear Crossing Project, Solicitor's Regulation Authority, Working Links |
| 24 | Hatch Communications | Leeds | 14 | Crabbie's Alcoholic Ginger Beer, First Utility, NHS, Wensleydale Creamery, World Vision |
| 25 | Pelican Communications | Oldham | 13 | Apeal, NCC, FCC Environment, Markem Imaje and BFFF |
| 26 | Context Public Relations | Macclesfield | 11 | Check Point Software Technologies, Simoco Group, UserZoom, Algosec, Maginus Software Solutions |
| 27 | iseepr | Otley | 11 | GlobalPlatform, SIMalliance, EMVCo, NG Bailey IT Services |
| 28 | Roland Dransfield PR | Manchester | 12 | Hill Dickinson, Nuffield Health, Schroders, Bilfinger GVA, Royal London Asset Management |
| 29 | HR Media | Sheffield | 13 | Westfield Health, Stagecoach, B Braun, SIV, Redbrik Estate Agents |
| 30 | Hattrick PR | Manchester | 10 | Desso, PetSafe, Tarkett, Stirling Lloyd, REPIC |
| 31 | Label PR | Manchester | 12 | Mark Hill Hair (Boots UK), Fragrance Direct, Swimwear365 (FGH-UK), Curvissa (FGH-UK), Transform Cosmetic Surgery |
| 32 | Acceleris | Harrogate | 11 | Utilita Energy Ltd, Royal Alfred Seafarers, NFFO Ltd, Nexus Vehicle Management Ltd, Meridian Motor Group Ltd ( Vantage) |
| 33 | Plinkfizz | Newcastle-under-Lyme | 10 | The Trentham Estate, Waterworld, City Learning Trust, Peveril Homes, Bowcock & Pursaill Solicitors |
| 34 | RMS PR, Design & Marketing | Altrincham | 16 | Warburtons, Swizzels, Hiscox, Character World, Jerrold Holdings |
| 35 | Active Profile | Manchester and Liverpool | 10 | Energy Innovation Centre, Riello UPS, Pozzoni Architecture, Liverpool BID Company, Muse Developments |
| 36 | The Write Angle | Chorley | 9 | Festive Lights, Sika Liquid Plastics, Preston's College, Champion Accountants, Eric Wright Group |
| 37 | de Winter PR & Marketing | Chester | 12 | Bank of America, Chester Grosvenor Shopping Centre, Aaron & Partners, Royal Crown Derby, Nuffield Health |
| 38 | Ramarketing & PR | Newcastle upon Tyne | 8 | Juniper Pharma Services (JPS), Vaulkhard, Onyx, Crafter's Companion |
| 39 | Social Communications | Sale | 12 | Places for People Group, Lidl, United Living, Extra MSA Motorway Services, Devonshires |
| 40 | Prohibition PR | Leeds | 8 | Interflora, Savills, Silentnight Group, Thomson Reuters |
| 41 | JAMpr | Manchester | 8 | Argos for Business, Carl Kammerling International, Tuxedo Money Solutions, Money Advice Group, JST Jodie |
| 42 | Aberfield Communications | Leeds | 8 | Qhotels, Deloitte, First Direct, Northern Rail, NG Bailey |
| 43 | The Partners Group | York | 7 | Glassolutions, Eggborough Power Station, Nuffield Health,  National Farm Attractions Network (NFAN), Dynamic Networks |
| 44 | Manc Frank | Manchester | 7 | Carole Nash, Icelolly, Lucozade, Ribena, Weetabix |
| 45 | Dragonfly Public Relations | Rotherham | n/a | NHS, Marshalls, Pland |
| 46 | Allott & Associates | Knaresborough | 9 | PHS Group, Ulma Packaging, Confederation of Paper Industries, Pickersgill-Kaye, Potter Logistics |
| 47 | MTJ Associates | Leyland | 6 | AG Barr, Burton's Biscuits, Grace Foods; Kepak Convenience Foods; Sutcliffe Play |
| 48 | Umpf | Leeds | 7 | LivingSocial, Park Inn by Radisson, Virgin Trains East Coast, Visit Malta, YESSS Electrical |
| 49 | Brand8 PR | Leeds | 6 | Avant Homes, Gordons, Sanderson Weatherall, Lansinoh, TOMRA |
| 50 | The Karol Marketing Group | Newcastle upon Tyne | 7 | AMG Group, High Street Group, NAL Asset Management, Master Locksmiths Association |